Introduction
If you are wondering whether or not your B2B company should be on Instagram, I am guessing you probably aren't on Instagram yourself personally.
Because it's really hard to be on Instagram and not see how some of the worlds biggest and best brands as well as new companies are using Instagram to engage with their audience in a very real human way.
Given over half of millennials are active users on Instagram and 40 percent of the workforce in most average companies is made up of millennials it seems like you might be missing a big opportunity to engage with your audience, build your brand, and generate leads if you are not on Instagram.
But, that might just be my own fear of missing out talking, so I'm including lots of research below to help you decide for yourself.
---
Statistics
80% of users follow a business on Instagram (abstraktmg.com)
Click To Tweet
And, a recent survey found that while B2B companies are still more likely to choose LinkedIn, 53% are now active on Instagram. (sspr.com)
Videos are an important marketing tool, 57% of marketers use video in their marketing and according to Social Examiner, 72% of marketers plan to increase their use of video-based marketing techniques. (business2community.com)
According to the Social Media Marketing Industry Report 2015, published by Social Examiner, which surveyed 3700 marketers across the world, almost all of the respondents (96%) said that they use social media marketing. (business2community.com)
The importance of having a well-developed social media marketing strategy is obvious from the fact that 92% of the people in the survey indicated that they considered social media marketing as an important element for business growth. (business2community.com)
According to research by Forrester, Instagram has significantly higher levels (400%) of user-brand interactions than Facebook or Twitter. (business2community.com)
Create content with an AI-powered Research Assistant
Top News Stories
Facebook has introduced a huge dilemma for retailers by launching shopping on Instagram (businessinsider.com) – April 10, 2019
Topics: Google, Amazon, Button, Rakuten, Nordstrom, Facebook, Instagram, shopping journeys
Uber moves things, and Facebook connects people – but now, Facebook is going to try to sell things via Instagram Checkout on top of all these connections.
Facebook launched Instagram Checkout saying that its goal was to build a better experience for users to shop directly on Instagram.
The dilemma that retailers must now wade through is centered on whether they are willing to be disintermediated and have their customers' start and finish their shopping journeys through Facebook and Instagram, or whether these retailers want to be their customers' starting point and have customers buy from their sites and apps directly.
Through higher-converting technology, Button embeds commerce experiences inside publisher apps so that brands can grow their mobile business, publishers can increase their mobile revenue, and consumers have a better buying experience on mobile.
Instagram Marketing for Your Business and Brands in 2019 (business2community.com)
Topics: social network, Instagram, Influencers, Carousel, relevant audience, effective influencers, paid partnerships, valuable marketing tool
With this new profile, the entrepreneur can access four elements: contact information, analysis tools, the Promote option of a publication and the addition of links in the stories.
The Instagram social network offers many opportunities for image communication, such as balancing a communication considered too rigid in certain sectors or even allowing the sharing of the internal life of his company.
It is, therefore, a real opportunity to share content by defining specific objectives as to the publications to be broadcast and the line of communication to be used.
Measure the working time around your photos if necessary and the animation of the account (interactions, sharing, comments, likes, respond and engage on your subject).
From the end of 2015, brands and all users can learn how to create ads on Instagram via Facebook's self-service platform.
You can choose between 5 types of ads on Instagram: Photo ads Video ads Carousel ads Slideshow ads Announcements stories
Sources
Topics
new favorite social trend
---
Highlights for top topics
social media
Like with any other social media platform, it's important that you get involved in the broader conversation rather than just posting to your own feed. Find power users, similar businesses, and complementary brands to follow. And don't just follow them — comment on their pages, like their content, and repost the best of it (with permission, of course). Users like it when their content is recognized by a big brand, so this is a good way to get your name in front of more eyes. (convertr.io)
As with the other social channels you're using to promote your brand, you're going to have to create a specific strategy. Yes, using Instagram for your B2B involves more than hastily loading the app onto your social media manager's phone and telling them to 'go forth and make us popular on Instagram'. I mean, that's a great start, but let's take a step back before you start uploading team selfie photos. (Don't worry, though, we'll totally get to those later.) (distilled.net)
Instagram
When I originally sat down to write this blog, I wanted to talk about why companies should be taking advantage of Snapchat's capabilities. This was before the force we know as "Instagram Stories" came into play. I first heard of Instagram Stories nearly a year ago, and my thought was, "Nobody is going to use this – it's a blatant copy of Snapchat!" Boy, was I wrong. With SSPR's own Instagram reaching its one-year anniversary, now's the perfect time to dive into our new favorite social trend. (sspr.com)
But lots of business owners in the B2B space think of Instagram as a distraction, more suited to the flashy marketing tactics of consumer products than to the more serious world of B2B. What B2B marketers fail to realize, though, is that at the other end of every one of your marketing efforts is a human being — one who responds to the same tactics and appeals as any other person, whether they're shopping for their own pair of shoes or new database software for their company. (convertr.io)
social media marketing
As we rekindle our social media marketing efforts, we'll be more focused on using Instagram. At Databox, design is important to us. Our product, after all "visualizes" data. So, in addition to being a great way to showcase our work, we'll be employing the lessons from the companies above. Follow us here to see what we're up to. (databox.com)
If you were interested in social media marketing and could see yourself in Vancouver, you'd likely check their job board after seeing something like this. (databox.com)
target audience
Effective Online Marketing Strategy When building your online marketing strategy, brainstorm and set specific goals for your business. Leaving things unplanned is a recipe for a lukewarm presence that will not drive up sales or encourage customer loyalty. Promote your brand values through these channels and you will end up with actively engaged followers and customers. In short, if you create inspiring content you will connect with your target audience. (business2community.com)
KoMarketing focuses on their team and what is happening around their office for their Instagram posts. This approach has two benefits: it not only shows their target audience what the employees behind the scenes are like, but it gives potential employees a look into the company culture and how they would fit in. (komarketing.com)
Linkedin
Instagram isn't just another channel to broadcast your existing B2B content — technical articles and infographics won't have the same impact on Instagram as they would on Linkedin or even Facebook. Rather than simply repackaging your existing content, think of Instagram as a way to fill in the gaps, rounding out the public's perception of your company. (convertr.io)
If you asked most about which social platform they assume is the major recruiting tool, they'd say Linkedin. And that's true — it is a major tool for HR professionals and candidates to connect directly. But Instagram does a much better job of showing the perks of working at a particular company. Reddit shows some of their workplace values here: (databox.com)
Twitter
Live video on Instagram is definitely an article in itself, but essentially, it allows you to create live broadcasts on your Instagram Stories section. Live videos on Instagram can go for up to an hour, and then you have the ability to save the video file afterward to publish them on YouTube, Facebook, or another platform. It will not automatically publish to your profile after the broadcast is done like it does on Facebook and Twitter. (komarketing.com)
Hashtags are insanely popular on Instagram. Studies have shown that you can (and should) actually use more hashtags on Instagram than on Twitter. Keep Twitter hashtags to about two per post, whereas Instagram posts show the highest engagement at 11 or more hashtags per post. (komarketing.com)
Facebook
Instagram has become much more business-friendly since it launched, but it's still not the easiest place to get your content seen. Much like Facebook, Instagram uses its own algorithms to decide what you're likely to want to see. In order to get noticed and float to the top of timelines, you're going to have to leverage a few tricks. (convertr.io)
Although it's unlikely to lead to as many sales as platforms like Facebook, there's still the opportunity to connect with industry leaders and reach other businesses. (snapagency.com)
marketing strategy
While brand storytelling isn't a new concept, the rapid growth of social media and content marketing has provided B2B companies with greater opportunity to strategically tell their stories as part of a broader online marketing strategy. And brand awareness will only become more important to generating search results in the future. While these are just a few examples of some of the top B2B companies on Instagram, they realize the significance of utilizing the social media platform as a key device for storytelling. (komarketing.com)
The importance of having a well-developed social media marketing strategy is obvious from the fact that 92% of the people in the survey indicated that they considered social media marketing as an important element for business growth. This statistic continues to grow every year. (business2community.com)
brand awareness
Exclusive promotions are a great way to drive brand awareness and increase followers. Typically, when you think of promotions, you think of something very consumer-focused, like a product sale. But there are plenty of ways B2B companies can offer promotions and exclusive content through Instagram Stories; it all depends on your specific marketing goals. (sspr.com)
Increase brand awareness – Give customers a glimpse into the way you do your work, this builds trust. Do not focus on selling— Prioritize customer interaction and feedback. Be consistent— Develop a loyal following by being active and consistent. Mobile-focused strategy— Instagram enables you to connect with consumers via mobile. (business2community.com)
customer testimonials
The power of customer testimonials can't be overstated — showing prospective buyers that you've encountered and solved their exact problems and needs before is a very compelling argument that they should do business with you. (convertr.io)
Another easy thing to do for customer content is to create a graphic template in Photoshop or an online tool like Canva for customer testimonials. This can be used multiple times, with new text in the main area. (komarketing.com)
---
---
Summaries
Should Your B2B Company Be On Instagram?
For many companies, posting once a week is doable, so start with that goal then scale up to multiple times per week if you feel like you have more content to share.
The most popular posts on Instagram usually have a visual, artsy feel like this one, which was the most-liked post on Instagram for months until another celebrity photo took its place.
If you have an account (using a paid or basic free Buffer account ), you can even save your logo in Pablo and set it to be automatically added to all the images you create.
Like the university banner example mentioned above, showing how customers actually use your products or services can instantly give context to what you are offering.
This concept works for all industries too: if you make manufacturing parts, for example, you could take a short video or photo in a customer's facility showing the part in action.
Having that many hashtags can get cluttered, so many users prefer to post the hashtags in a comment on the post, instead of the post caption.
Why Your B2B Brand Needs to be on Instagram
As with the other social channels you're using to promote your brand, you're going to have to create a specific strategy.
Instead, you want to think about Instagram as a way of telling your story as part of a larger online marketing strategy.
In fact, you can't scroll through the Fedex Instagram feed without feeling as though, while you're idly scrolling, they're hard at work.
The impression, here, is that FedEx trucks are always moving, always delivering, always there.
B2B brands need to embrace the fact that marketing on Instagram is less about selling the benefits of your products and services, and more about establishing deeper connections with people including industry thought-leaders, employers, and prospective clients.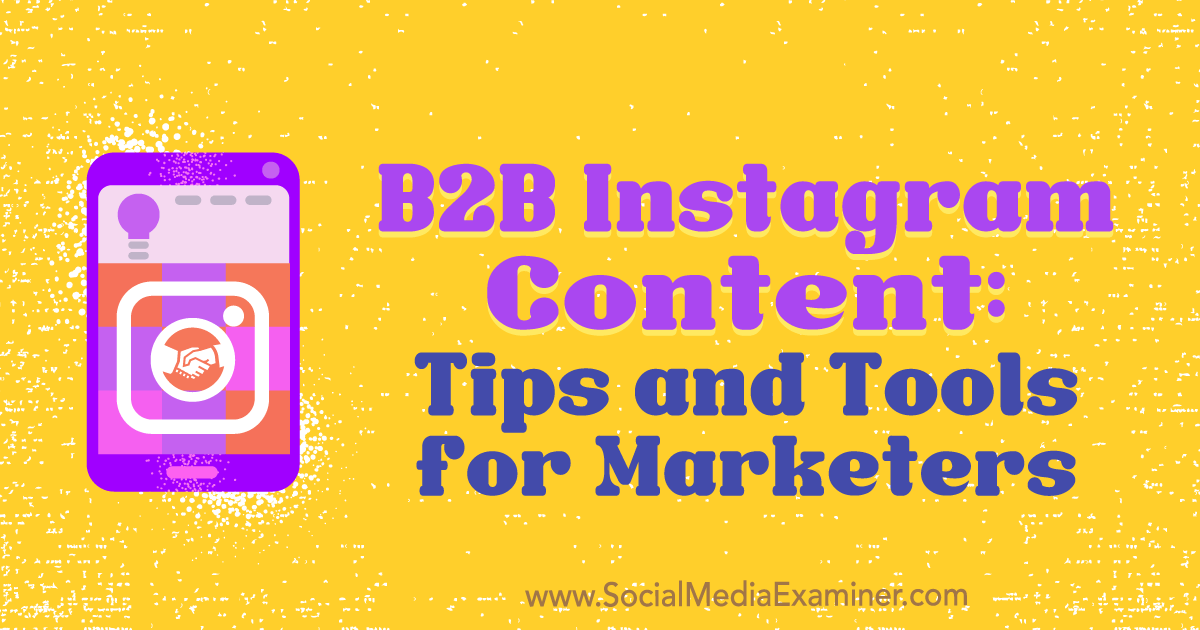 B2B Instagram Content: Tips and Tools for Marketers
Find tools to help you deliver B2B Instagram content that will raise brand awareness, strengthen customer loyalty, and grow an engaged community.
12 Noteworthy Examples of B2B Companies on Instagram
Should Your B2B Company Be Using Instagram?
One of the most relevant social media applications today is Instagram, yet a lot of B2B companies aren't using it.
Just like most social media sites, your business profile is free to set up, and unless you want to promote your content – it will continue to be free.
A social media brand guide could potentially incorporate the following elements: Brand voice Image types and quality Grammar Terminology Image guidelines Expectations for customer interactions
Start posting content you'd like to see in your feed using relevant hashtags, and start following similar accounts.
Why Your B2B Company Needs To Be On Instagram
You're probably not going to acquire a whole bunch of new customers from Instagram, but you might get some.
More importantly, you can connect with your clients, future clients and show your brand to the world.
Social media isn't just about trying to acquire new customers.
Using a platform like Instagram is an excellent way to humanize your brand.
Some B2B brands have used platforms like Instagram as an opportunity to represent their brands.
Can You Generate Demand for Your B2B Using Instagram?
The value of Instagram in B2C marketing is abundantly clear by now – thousands of brands are pouring millions of dollars into creating high-quality visual content to put on Instagram in order to attract customers.
People want to buy from people that they like, and that's true whether the buyer is a single individual or a CMO making a company-wide purchasing decision.
Set up group events, whether in the office or outside it and encourage employees to share their experience and tag your company accounts.
You can repost their content or share your own, humanizing your company and showing the faces behind the brand.
Look for ways to build a relationship with followers, existing customers, and peers.
Why Your B2B Business Will Benefit from Instagram Stories
Instagram Stories recently hit over 200 million active users, which surpassed the 161 million users Snapchat claimed to have before its IPO.
It's a fun way to show off your company and it also offers customers (and potential customers) an insider's view of how your brand operates and what makes your business unique.
there are alternative ways to promote your brand's marketing collateral.
One exciting new feature is " Location Stories," which aggregates public stories from specific, location-based areas.
7 Successful B2B Instagram Marketing Strategies
1. Embrace User-Generated Content
2. Use Instagram to Show Off Your Employees & Culture
3. Showcase Your Customers
4. Show You Care About The Same Things Your Customers Care About
5. Use Hashtags to Interact with Your Followers
6. Showcase Your Physical Products
7. Identify the Content That Works
Should Your Business Be On Instagram?
A business' survival in today's technology-driven world depends on the organization's ability to effectively identify, engage, and retain its customer's rapidly changing demands.
Whether you are a small business or a multi-national organization with a worldwide reach, the quickest way to reach customers is by developing an effective social media marketing strategy.
It is vital that you keep up with the rapidly changing world of social media marketing in order to make the most of your business.
There is no denying that every business needs to learn to develop short-term tactics for effective online marketing and also focus on a long-term strategy for promoting their products and services.
Effective Online Marketing Strategy When building your online marketing strategy, brainstorm and set specific goals for your business.
Can Instagram Really Work for B2B Marketing?
Topics: Instagram, Facebook, Content Publishing API, customer story, specific niches, Automated Posts, a fresh view, rich experiences
At first, it may be tempting to leverage Instagram simply as another channel for broadcasting your existing content.
Zoom in on the ones that could make a true visual impact, whether it's through images or videos, as seen by Yotpo's post: Tap into Employee Advocacy: Your company shouldn't be the only one sharing content.
Despite this, the rise in Instagram Business accounts offers greater opportunities for B2B marketers to engage their audience and see a real ROI from Instagram.
Last week, Instagram also released the option to include a # or @ in your bio, which becomes live links that lead to a hashtag page or another profile.
While some B2B marketers may not want to invest ad spend into a network that was previously free, Instagram Ads offer a truly seamless way to target specific niches within your audience.
---